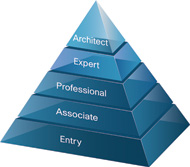 By James Hanback

You've spent endless nights poring over CCNA Voice IT certification training guides, answering CCNA Voice practice questions, and searching—perhaps in vain—for a CCNA Voice lab simulation environment where you can get your hands on a shiny used Cisco Unified Communications 500 (UC500) that you can use to practice everything that you memorized from study guide screen shots and CCNA practice exam hearsay. Thinking you're all primed to obtain your latest Cisco certification, you sit for the CCNA Voice exam and, to your horror, discover that what you studied for is yesterday's news, cold bath water, stale bread, or pick your own metaphor. The rumors of the death of the UC500 topic in the CCNA Voice exam have not been exaggerated at all.
The previous CCNA Voice exam, 640-460, tested your knowledge about the concepts and configuration of small Voice over IP (VoIP) networks, the kind you're most likely to deploy in a small business or medium-sized business. Therefore, the main focus of the exam was the deployment, configuration, and maintenance of products like Cisco Unified Communications Manager Express (CME) for call management, Cisco Unity Express (CUE) for voice messaging, and the UC500 as an all-in-one solution that included that handy graphical user interface (GUI) known as Cisco Configuration Assistant (CCA).
The CCNA Voice 640-461 exam, on the other hand, switches the focus to a larger scale VoIP network. Make no mistake, you still need to know how to administer CME, but you also need to know how to deploy, configure, and maintain the big boys.
Know Cisco Unified Communications Manager (UCM)
UCM is the big brother of the CME call processing platform. The previous Voice exam tested mainly over administering CME by using the command-line interface (CLI). For 640-461, be sure you understand how and where to configure user accounts, enable specific features, and generate reports by using the GUI as well. You cannot issue a show running-config there.
Know Cisco Unity Connection
Unity Connection is the voice messaging component of the enterprise-level Cisco VoIP network. Make sure you know how to add users to and enable features of Unity Connection. Additionally, you should understand the protocols and methods Unity Connection uses to communicate with other products in the VoIP environment.
Know Cisco Unified Presence (CUP)
CUP is the diplomat of the enterprise VoIP network, the component that gets all the other VoIP components talking to each other and to third party applications. You should know what CUP does and how it does it. There's also the client side of CUP, which is known as Cisco Unified Personal Communicator. Personal Communicator is software that enables an end user to place and receive calls from a workstation. You should familiarize yourself with deploying Personal Communicator and how it works with both CUP and UCM.
Know the VoIP Basics
Although you probably won't find yourself needing to understand all the VoIP background information that you needed for the previous exam, you do still need to know some of the basics about how a VoIP network operates. For example, you should understand voice network protocols, call quality, and call signaling.
Know How to Troubleshoot
The 640-461 exam focuses on administrative and support roles. Therefore, you should understand the process of troubleshooting a VoIP network. You should also be familiar with common problems that you could encounter as a result of the misconfiguration of Cisco Unified Communications components, not to mention the solutions to those problems.
In the end, you have not completely wasted your time if you've studied CCNA Voice 640-460 materials to prepare for the 640-461 exam. However, you could find yourself struggling with exam questions that are related to UCM, Unity Connection, and CUP if you have no experience administering those products.