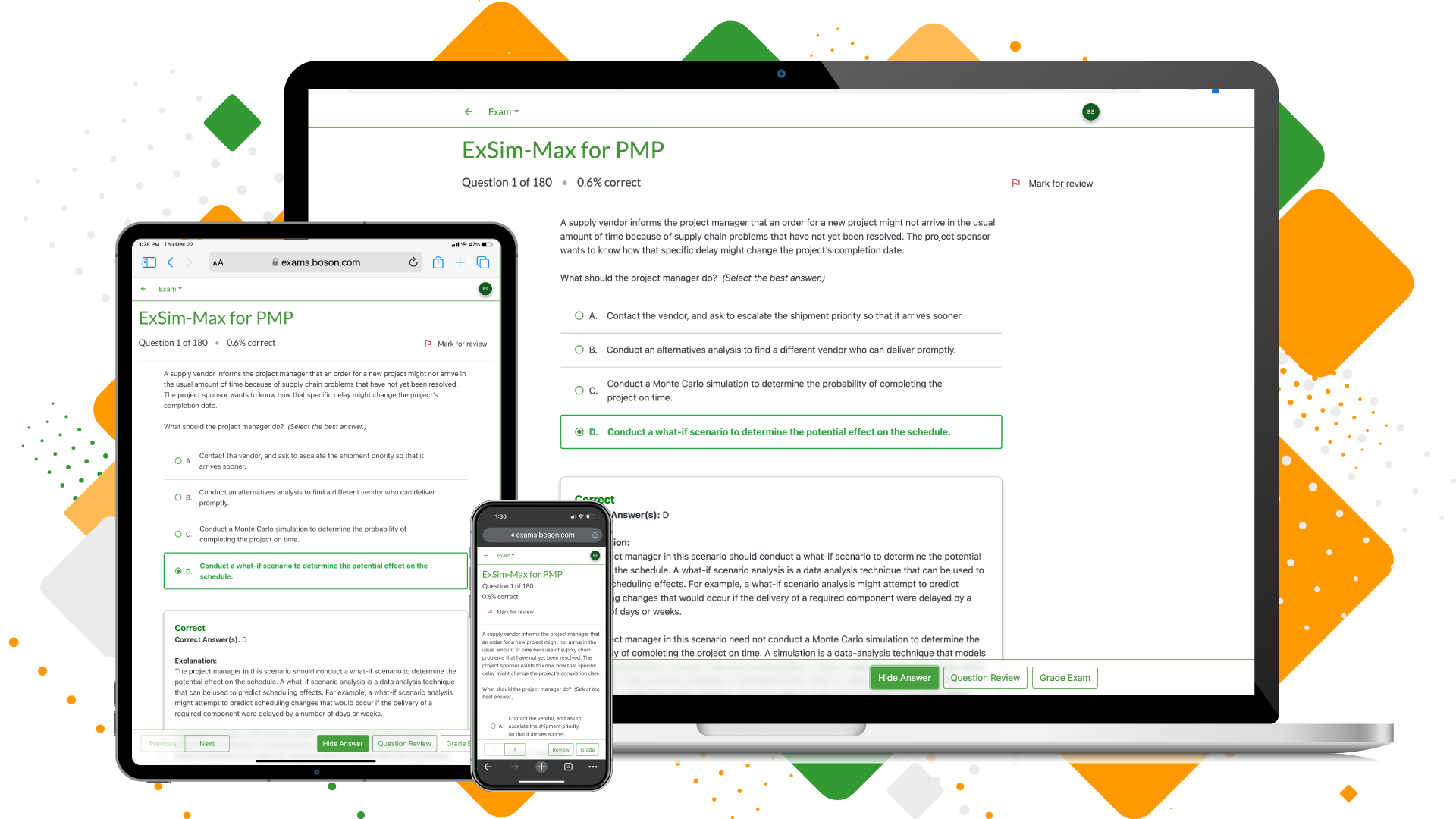 Preparing for the Project Management Professional (PMP) exam can be a daunting task. With so much material to cover, it's easy to feel overwhelmed. One of the best ways to ensure that you're ready to pass the exam is to take practice tests. That's where the Boson ExSim-Max for PMP exam simulation product can help.
Boson has been producing premier practice exams for more than twenty years. Our subject matter experts bring unparalleled knowledge and experience to each product we create. For the first time, Boson has brought this expertise to a PMP practice exam product.
ExSim-Max for PMP offers a number of benefits over traditional practice tests, including:
Convenience: With our cloud-based practice exam, you can study anywhere, at any time. All you need is an internet connection. This means you can work as your schedule allows. You can pick up where you left off regardless of the device you're using. Take practice tests on the go, during your lunch break, or even poolside on vacation.


Variety: ExSim-Max for PMP includes four unique full-length practice exams. The questions are expertly crafted to cover the concepts you need to know to pass the PMP exam. In addition, the questions are presented in a real-world scenario format, similar to the real PMP exam. You won't simply memorize terms and definitions. Instead, you'll be asked to apply the project management skills you've learned in order to correctly answer each question. In Study Mode, you will receive detailed explanations about why the correct answer is right and, equally important, why the incorrect answers are wrong. Studying Boson's detailed explanations can provide some much needed context for applying project management concepts to specific real-world scenarios.


Timing: One of the most significant benefits of ExSim-Max is the ability to simulate the timing structure of the actual PMP exam. The real PMP exam consists of 180 scenario-based questions that you will answer over a period of 230 minutes (a little less than 4 hours). With such a large pool of real world scenario-based questions, the ability to work efficiently is crucial to your success. With ExSim-Max for PMP, you can test your ability to work under pressure and manage your time effectively.


Review: Receive immediate and detailed feedback on your exam performance. The Category Breakdown feature allows you to group questions by topic category to help you identify your strengths and weaknesses. This can help you understand the material better and identify areas where you need to focus your studies.


Guarantee: We stand by our products. That's why we offer a

No Pass, No Pay Guarantee.

If you can pass the ExSim-Max exam, you can pass the real exam on your first attempt. If you fail the PMP exam within 6 months of purchasing ExSim-Max for PMP, we will issue a full refund.
ExSim-Max for PMP is an effective and convenient way to prepare for the PMP exam. It offers the convenience of taking the test from anywhere, real world scenario-based questions, and immediate feedback. The Boson No Pass, No Pay Guarantee also makes it very cost-effective, so you can feel confident in your practice exam selection and pass the PMP exam on your first attempt.