By Josh E.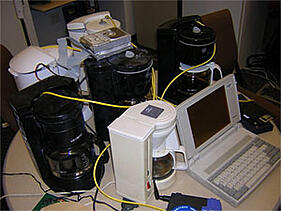 Being able to implement first hop router redundancy protocols is one of the objectives listed for Cisco's 642-813 SWITCH exam. Cisco supports three first hop redundancy protocols: Gateway Load Balancing Protocol (GLBP), Hot Standby Router Protocol (HSRP), and Virtual Router Redundancy Protocol (VRRP). This article provides an overview of each of these protocols.
GLBP is a router redundancy protocol that also provides load balancing. GLBP enables you to configure multiple routers as a GLBP group; the routers in the group receive traffic sent to a virtual IP address that is configured for the group. Each GLBP group contains an active virtual gateway (AVG) that is elected based on which router is configured with the highest priority value, or with the highest IP address if multiple routers are configured with the highest priority value. The other routers in the GLBP group are configured as primary or secondary active virtual forwarders (AVFs). Up to four primary AVFs can be configured in a GLBP group, and the primary AVFs can participate in forwarding traffic. Consequently, multiple routers can be used simultaneously to provide load balancing for the GLBP group.
HSRP is a router redundancy protocol defined in Request for Comments (RFC) 2281. Similar to GLBP, HSRP can be used to provide backup router coverage if the primary gateway becomes unavailable. Multiple routers are assigned to an HSRP group, and the routers function as a single gateway. An HSRP group contains one active router and one standby router. The active router is the router with the highest priority value, and the standby router is the router with the second-highest priority value. Other routers in the HSRP group are in the listen state. If the active router fails, the standby router assumes the active router role and a new standby router is elected.
VRRP is another router redundancy protocol supported by Cisco. Routers are assigned to a VRRP group, and the group functions as a single gateway for clients. A VRRP group has one master router, which is the router with the highest priority value. All other routers in the VRRP group are backup routers. A virtual Media Access Control (MAC) address is used to identify the VRRP group to clients. The virtual MAC address for VRRP groups is in the form of 0000.5e00.01xx, where xx is a hexadecimal value identifying the VRRP group number. For example, VRRP Group 1 would be identified by the virtual MAC address 0000.5e00.0101.
Photo: Rich Bowen